Flavour craze: Why the world loves the Buddha Bowl! – Times of India
A popular proverb goes: If you combine good flavours, food turns into an orchestra. And that can't hold more true than for a Buddha Bowl. A happy melange of veggies, whole grains, legumes, rice and a dressing or two in a round bowl, it imparts flavours in a colourful and filling, one-dish meal. Considered the ideal way to have a meal, the Buddha bowl or hippie bowl as it is also called, can put you in foodie paradise.
As Indian cricket legend Sachin Tendulkar discovered a few days ago. Sachin's daughter prepared a Buddha bowl for the family and the cricket ace loved it. He took to Instagram to post a picture of the bowls and wrote, "He captioned it, "Sara made a Buddha bowl for us. It has a fillet of chilli & honey glazed salmon with shredded honey mustard carrots, pickled cucumbers and sliced avocado, on a bed of Thai vegetables. Garnished with mixed seeds, coriander, onion and lemon. Enjoyed having such a healthy and tasty meal. Above all it was filled with love. #foodiefriday"

The term Buddha Bowl is said to have been coined by famous food author Martha Stewart and until then these were just referred to as Grain Bowls. But that does not take away from the origins of it. As per lore, Buddha bowls go back a long time to cultures where monks carried these through their roads and paths and people placed whatever food they could give inside them. In contemporary times, they have come to mean either a toss-up what's leftover in the fridge, a convenient meal carry to the office or an oriental blend of rice noodles, quinoa, grains and a sauce. The bowls are also in demand in city restaurant menus. Says Rahul Bajaj, director of a deli in Bandra, "A Buddha bowl is also called a power bowl as it packs goodness and nutrition. The bowl we serve is loaded with greens, veggies, walnuts, quinoa topped with a hearty dressing and a fried egg. You get a colourful, nutrient-enriched meal that's aesthetically pleasing and notches things up on the health scale as well. It's also filling."
Gurmeet Arora, founder of Mumbai-based healthy café, says, "The Indian Buddha bowl consists of healthful grains topped with multicoloured vegetables and protein — it has also been claiming lunch and dinner menus in our cafe and is being lapped up as a fabulous 'new' way to eat. People are loving the Indian twist to it. If you happen to be on the lookout for a pick-me-up kind of meal then Buddha bowl is just what you need. It has clean flavours and plenty of greens, it can become a go-to meal in no time!"
Balance and wisdom in your bowl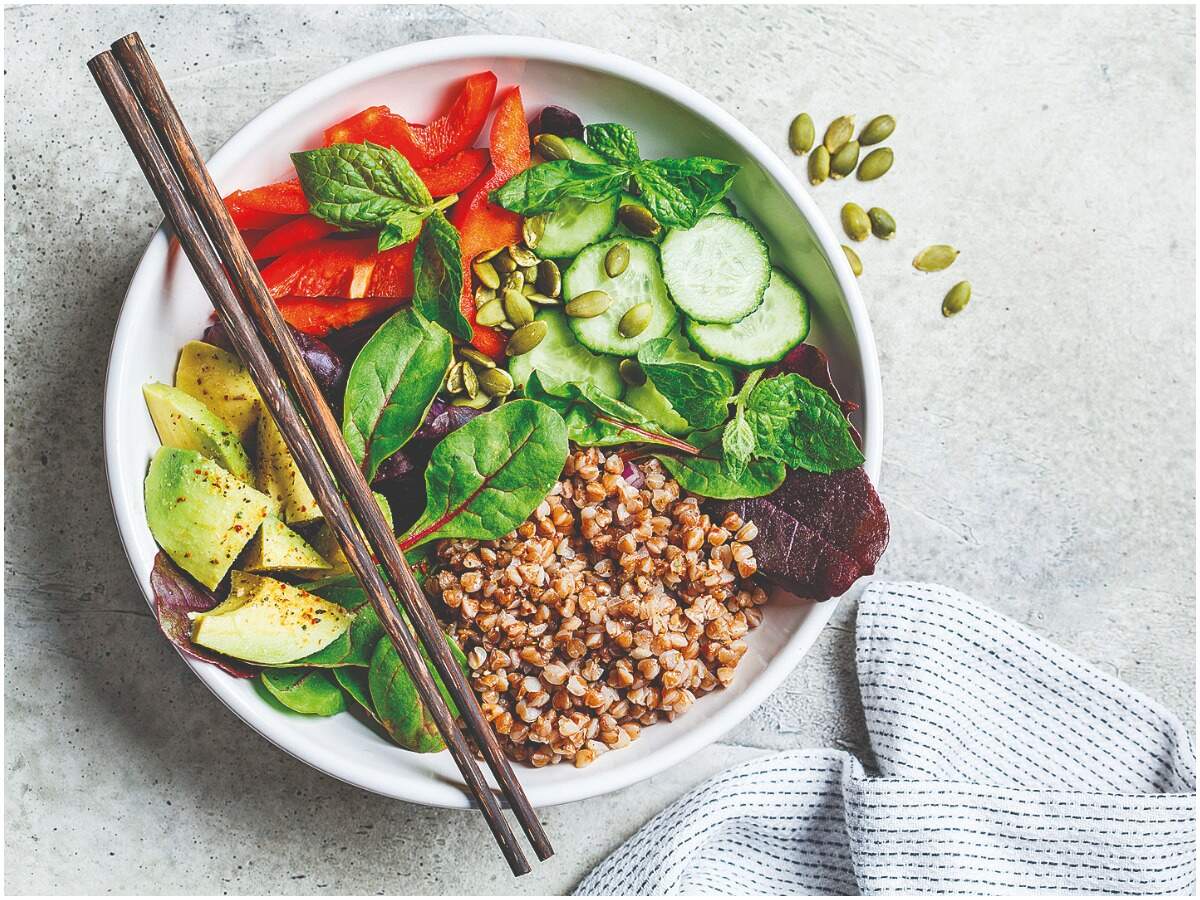 Mumbai-based chef Keith Lawrence breaks down the assemblage of the Buddha Bowl. "This is a quick and easy fix to get your daily dose of healthy, nourishing nutrients in one bowl. Constructing a Buddha bowl is like putting together four basic components which the body requires. First, you add the protein, then add some whole grain rice to it, followed by a selection of vegetables. Bring this all together with a delicious dressing."
He gives a quick recipe to try: "One quick Buddha bowl recipe which I swear by can be made by adding some grilled cottage cheese seasoned with salt and pepper, brown rice, assorted vegetables tossed with some fresh herbs and bringing it all together with a light coconut curry leaf sauce," he says.
A step-by-step guide to assemble your own bowl

First cook the brown rice. You can also go with millets or quinoa. Keep aside.
Sauté your peppers and spinach leaves with a few pods of shredded garlic and salt.
Also sauté protein-based ingredients such as paneer and tofu in olive oil. Can also use cooked kidney beans.
Dice the raw veggies – tomato, carrot, mushroom, cauliflower or avocado.
Time to assemble it wall. Begin with a base of greens.
Add the grains and raw veggies on this, placing them side-by-side.
Crumble the tofu or paneer on top.
Place chickpeas, a few olives and even pine nuts, at the side.
Drizzle the flavour dressing of your choice over this. We suggest a sweet-chilli or lime-chilli one.
Sprinkle sunflower seeds or flax seeds over this.

An example of 'clean eating'

An example of 'clean eating' The term 'Buddha Bowl' was coined by food expert Martha Stewart in her book. It usually comprises a vegetarian meal with smaller portions of ingredients served cold, such as vegetables, healthy grains like quinoa and brown rice, proteins like chickpeas, tofu as well as greens. These bowls are a fave on Instagram.